How to search The Gazette
The Gazette is formally the combination of three publications: The London Gazette, The Belfast Gazette and The Edinburgh Gazette. As a publication, The Gazette consists largely of statutory notices which can be searched for via www.thegazette.co.uk.
The Gazette website is free to use, however if you would like to save your searches, specific notices, or create bespoke editions, you will need to create an account, which is also free.
How do I search The Gazette?
The easiest way to start a search on The Gazette is to head to the All notices section of the website. Notices in The Gazette can be searched for in several ways:
While conducting a search, you can amend or clear your search options at any point, or if you want to start from scratch, click the 'clear all' button. You can sort results by oldest or latest, and select the number of results you want to view.
It should be noted, however, that notice type, notice code and location searches should only be used if you are searching for notices that were published from 1998 onwards. This is because data from 1998 onwards was created from extensible markup language (XML) allowing all filters to be used to search and refine results from this data.
You can also refine your search using the following sections:
However, for data before 1998, and for data that doesn't exist in XML format (such as supplements), we have used existing scanned images of documents and our own information extraction tools. This means only certain filters can be used to search this data, such as text search, date and edition in the All notices section. If you are looking for notices before 1998, or notices that may have appeared in a supplement, use the textsearch and keep the 'Show all' box under 'Notice type' ticked.
Search by text
You can search for names, exact words, phrases, or a combination of terms using the Text search. For example:
use "double quote marks" to find notices containing exact phrases, for example "Michael Davis"
use AND to find notices containing both words, for example Michael AND Norwich
use OR to find notices containing either word, for example Michael OR Norwich
use NOT to find notices containing a word but not another, for example Michael NOT Norwich
use brackets for complex searches, for example Michael AND (Southwark OR Lambeth)
combine phrases for complex searches, for example "Michael Davis" AND Norwich
Sometimes, especially if a name is common, it can be extremely difficult to find a notice. For example, a search on 'A Smith' could get no matching results. This is because the format of the name is not consistent in different parts of The Gazette, as styles have changed over time.
Using the example of an individual named John David Jones, they could have been gazetted in several different ways, for example:
"John David Jones"
"John D. Jones"
"J. D. Jones"
"J. David Jones"
"John Jones"
Although this may be time-consuming, searching with all the above is the only way to be sure you haven't missed an individual.
Search by notice type
The Notice type search allows you to select notices according to Gazette categories. For example, you can search for state notices, or narrow your search further by choosing the specific state notice you are interested in, such as honours and awards.
Search by notice code
All notice types in The Gazette have their own unique four-digit code to make searching easier. You can find all notice codes by category and use them to search by Notice Code.
Search by location
You can search by Location (including local authority, place or post code) and also specify the distance to narrow down your choices.
Search by date
You can use the Publication date to narrow down your searches. The Gazette's archives date back to 1665, therefore using a date range will greatly increase your chance of success.
You can use the following commonly searched for historical events to help you - these links will update the search page with the relevant date ranges, and you can then refine your search further by using the free text or other search options:
Search by edition
If you know it, you can search by Gazette edition; London, Edinburgh or Belfast and issue number.
Search for soldiers, promotions and medals
The Gazette is the official bearer of War Office and Ministry of Defence (MOD) events, and for hundreds of years The Gazette has been publishing honours and awards for gallantry and meritorious service in the armed forces, often referred to as 'Mentioned in Despatches'.
When searching for a soldier using keywords your success depends on the style used to gazette them at the time as there was no standard way of submitting and displaying information. For example, often no first name is used, just the initial and the soldier's surname. However, there are certain fields of information that had to be included in The Gazette for a soldier:
name
rank
regiment
date
regimental service number (pre-1920) - note that often soldiers would move regiments and have a new service numbers assigned to them
service number (post-1920)
It should also be noted that due to the column widths used in the printed Gazettes, a name could run over two lines and will be hyphenated, making it harder to find. The name of a soldier may also have been submitted in several different ways. Using the example of Arthur James Smith, it could have been listed:
"Arthur James Smith"
"Arthur J. Smith"
"A. J. Smith"
"A. James Smith"
"Arthur Smith"
"Smith, [service number] A. J."
"Smith, [service number] A."
"Smith, [service number] Arthur J."
"Smith, [rank], A. J."
"Smith, [rank], A."
"Smith, [rank], Arthur J."
Providing details of a soldier will greatly improve your chances of success:
Add a date range if the time of publication, if known.
Add the award type to your search, for example typing 'Jacka Victoria Cross' into the search box returns Albert Jacka's VC awarded in 1915 (Gazette issue 29240). It should be noted that often certain awards will be awarded to multiple individuals at once. This means the lists of recipients may run over multiple pages and the award may only be mentioned in the first page.
Add the regiment or service number to your search, for example typing 'ApthorpRoyal Norfolk Regiment ' or 'Apthorp 56653' into the search box returns a mention in 1946 for Desmond Pretyman Apthorp (Gazette issue 37720).
Add the citation to your search. It should be noted that due to the sheer volume of soldiers being gazetted during conflicts, full citations were not common. However, there are several websites that provide information about servicemen, including Gazette citations, such as the Commonwealth War Graves Commission. For example, the entry for Charles Yate contains his citation. By typing "led his nineteen survivors against the enemy" into the search box, it returns his Victoria Cross entry (Gazette issue 12744).
The Gazette has a dedicated search area for World War 1, as well as World War 1 medals page.
Search for awards and honours
The Gazette is the official home of the monarch's Birthday Honours and New Year Honours, which recognise the achievements and service of people across the UK. The honour lists are published in a special Gazette supplement in the new year and on the monarch's official birthday. Other awards officially announced in special Gazette supplements include the Awards for Voluntary Service, the Prime Minister's Resignation Honours and the Dissolution Honours.
When searching for individuals who have received an award, the easiest place to start is the awards and accreditation notices page. Providing details will greatly improve your chances of successful search:
Add a date range. The reigning monarch announces the New Year Honours at the end of each year and their Birthday Honours in June, therefore if someone was awarded an MBE in the 2002 New Year Honours list, for example, use the date range starting from 28/12/01 to 01/01/02. If you know the year of an award but do not know whether someone was awarded in the New Year Honours or monarch's Birthday Honours, for example, it's best to change the date range starting from 28/12/01 to 01/07/02, for example.
Add the citation to your search. For both New Year and Birthday Honours, if you know what the individual was awarded their honour for, use the keywords 'for services to'. For example, if you search 'Kevin Sinfield for services to rugby', the search will return Kevin Sinfield's M.B.E. in 2021.
If you want to find the recipients of a certain award, use the Honours and Awards search function to narrow your search. Please note that M.B.E.s, O.B.E.s and C.B.E.s are part of the Order of the British Empire.
Unfortunately, we cannot confirm that knighthoods, other than those invested directly by the sovereign, were gazetted pre-1922; for Irish Knighthoods, you may wish to consult the Dublin Gazette archives (online for the period 1750-1800, with editions from 1800-1922 available to view in person at the National Library of Ireland), and for all others pre-1906, William Shaw's 'Knights of England' is considered to be the authoritative text.
Search for insolvency notices
The Gazette is the primary source of both corporate insolvency and personal insolvency information in the UK. Bankruptcy notices have appeared in The Gazette since the 18th century and notices are now a legal requirement of the Insolvency Act 1986 and The Insolvency (England and Wales) Rules 2016.
When searching for insolvency notices, the easiest place to start is the insolvency notices page:
If searching for an insolvent person, start by ticking show none under corporate insolvency, which will remove all these insolvencies from your search, leaving only personal insolvencies in your results. In the search box, type in their surname and their location to return the best results.
When searching for an insolvent business, make sure that show all is selected under corporate insolvency. In the search box, type in the business name, together with its location to return the best results - for example, 'Leeds United' will return results for companies in Leeds, United Kingdom. However, 'Leeds United Elland Road' will return 4 key results for the football club.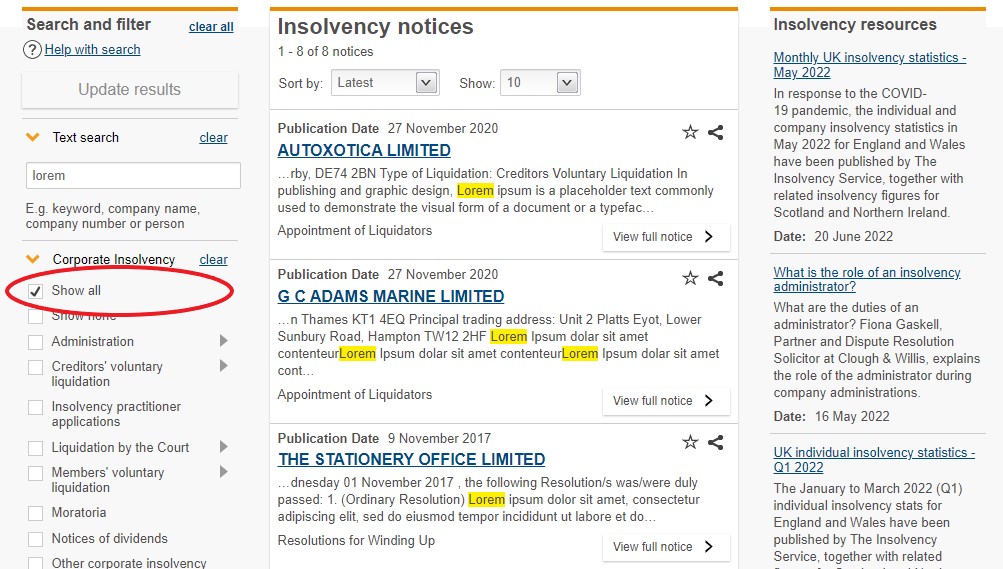 Search for deceased estates notices
The Gazette publishes deceased estates notices, as recommended in law under the Trustee Act 1925 for England, the Trustee Act 1958 for Northern Ireland, and the Confirmation of Executors Act 1823 for Scotland.
When searching for deceased estates notices, the easiest place to start is the wills and probate notices page. When searching for a deceased estate notice:
Add a date of death, if known.
Make sure you spell a name exactly, for example 'Will Cartwright' won't return the results for 'William Cartwright'.
Add a location on your search. This can mean the difference between William Cartwright in Buckinghamshire and William Cartwright in the Wirral.
Search for company information
The Gazette contains information about every company registered at Companies House. The easiest way to search these is by heading to the companies page where you can search a company by:
Company name
Company number
Location
Industry type (SIC code)
Incorporation date
The requirement to publish Company Law notifications stems from Article 3(4) of the EU Council Directive 68/151/EEC of 9th March 1968, which requires Member States to effect by publication in their national gazettes either the full or partial text or reference to a document which has been entered in the register. The United Kingdom's membership of the EC came into effect on 1 January 1973, and the notifications were submitted as supplements to The Gazette from 12 January 1973 (Gazette issue 45876), initially produced as microfiche documents.
The first company law supplement pdf was posted on The Gazette website on 30 May 2006 (Gazette issue 820543), however production of microfiche supplements did continue until 30 October 2006. Upon EU exit on 31st January 2020, the updated EU Directives were transposed into UK law, ensuring continuity of Company Law notifications; the only difference is that they are now referred to as 'enhanced disclosure documents' as opposed to 'directive disclosure requirements'.
What other considerations are there when searching The Gazette?
Optical character recognition (OCR)
To allow our users to access the rich archive of data contained within The Gazette we have scanned the archive. The Gazette search uses optical character recognition (OCR) to convert the scanned documents into machine readable text format, so that your text-based searches show the most relevant results.
While successful in the main, there can be errors when you search, due to the limitations of the process and the age and quality of the material that was scanned. Some issues of The Gazette may therefore contain errors not found and corrected in the original text. As a result, searches may not match content even if search terms are entered correctly.
It is worth noting the use of "Olde English" ligatures (such as the long S which resembles an 'f') is not recognised by the OCR engine.
Other known anomalies include misinterpretation of punctuation marks for example when searching for "G.D. Brown". Other typical OCR character misinterpretation include confusion between l, i and l, 0 and O etc.
Because of these issues, there are a few periods (1689 to 1711, 1766 to 1770, and 1880 to 1893 (Edinburgh)) during which, in many instances, it is not possible to perform a text search. However, The Gazette issues themselves can still be found.
Missing Gazette notices
It should be noted that some issues of The Gazette have not been digitised and this could affect your search. Check the Missing Gazette issues page for a list of all those that are missing, by issue number and date range.
Search results before 1752
It's worth noting that search results are ordered by the printed date of publication, rather than the published sequence. This is especially important to bear in mind for pre-1752 issues when the calendar year started on 25 March.
For example, February 1715 is put in 'date order' ahead of June 1715 (as the calendar year is now), even though February 1715 is in fact later than April to December 1715, because the year did not change again until 25 March. The issue numbers do however make this clear.
Can I search for Gazette information in other formats?
Information in The Gazette is available in various data formats, such as JSON and RDFa. Find out more about data formats here.
With The Gazette's data service your business can also receive bespoke, factual and trusted information to your desktop. Our clients include leading banks and financial institutions, credit reference agencies, large corporations and SMEs, insolvency practitioners, lawyers and many more. Whatever your business needs, The Gazette's data service can help.
Need more help searching The Gazette?
If you need more help searching The Gazette's extensive archives, The Gazette Research Service could help you find what you're looking for. Our team of experts will complete an exhaustive and thorough search of our archives and indexes for a small charge.
To send us your request, please complete this PDF form and send it to customer.services@thegazette.co.uk. You can also call us on 0333 200 2434, or post your completed form to: The Gazette, PO Box 3584, Norwich, NR7 7WD
For any other queries, please contact our customer services team.