What are Gazette company profiles?
The Gazette publishes online profiles of every UK business registered with Companies House.
Each company has its own profile page showing Gazette notices and information from Companies House, providing a complete and unbiased picture on an official platform.
You'll find information such as when a company was incorporated, director names, the nature of the business, previous company names, a timeline of activity and filings with Companies House.
You can search for a company by name, company number, location, SIC code or date of incorporation. Gazette company profiles can also be used to conduct due diligence checks, competitor analysis and review market trends.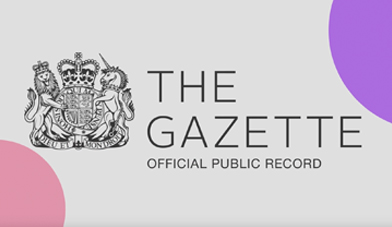 See also