Customise your company profile
Once you have registered your company, you can begin to customise your company profile to:
demonstrate corporate compliance
create a unique URL for bids, tenders and work quotations
demonstrate legitimacy as a business to current and prospective customers
help you to stand out from competitors
 Customise your profile with:
website URL
logo
social media links
phone number
an introduction to your company
As part of the customisation package, you can download The Gazette digital badge to add to your website and email communications, with a link back to your profile.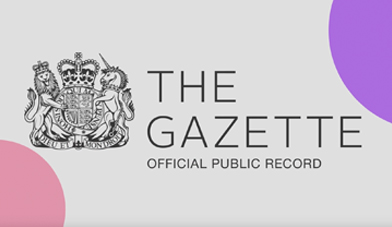 Membership options
Annual membership: £175 + VAT
30-day rolling membership: £19.99 + VAT
Just find your company via the search and then register. Once your registration has been approved, you can customise your profile.
For more information you can email or call customer services on +44 (0)1603 696981. 
See also