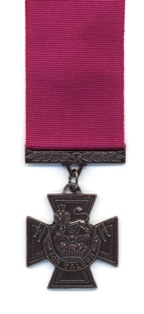 The highest military decoration, awarded for valour and devotion to duty in the face of the enemy to members of the armed forces, regardless of rank. Up to two bars may be awarded in recognition of further acts of gallantry. 
First established
By Queen Victoria, 29 January 1856, to recognise valour in the Crimean War (gazetted 5 February 1856). 'The Queen has been pleased, by an instrument under Her Royal Sign Manual, of which the following is a copy, to institute and create a new Naval and Military Decoration, to be styled and designated "The Victoria Cross"'
Prior to this, there was 'no means of adequately rewarding the individual gallant services either of officers of the lower grades in Our Naval and Military Service' (Gazette issue 21846). The VC was awarded to just 633 individuals between 1914 and 1918. 
First British VC recipient of WW1
Cpt Francis Octavius Grenfell, gazetted 13 November 1914
'For gallantry in action against unbroken infantry at Andregnies, Belgium, on 24th August 1914, and for gallant conduct in assisting to save the guns of the 119th Battery, Royal Field Artillery, near Doubon the same day.' (Gazette supplement 28976)
Grenfell was killed in action, aged 34, during the Second Battle of Ypres in May 1915, when the 9th (Queen's Royal) Lancers suffered 208 casualties out of the 350 men who had gone into battle. He was one of 15 siblings. Grenfell's twin brother, Riversdale, had been killed in action in 1914.
First posthumous British VC recipient of WW1
Lt Maurice Dease, gazetted 16 November 1914
'Though two or three times badly wounded he continued to control the fire of his machine guns at Mons on 23rd Aug, until all his men were shot. He died of his wounds.' (Gazette supplement 28976)
Dease was in command of a machine gun section with of the 4th Battalion, the Royal Fusiliers. He died aged 24, at Mons, the first battle fought by the British against Germany on the Western Front. Hit in the knee, he crawled forward towards a machine gun when he was hit a second time, and then a third, as he continued to control the machine gun fire, despite suffering what were to be ultimately fatal wounds.
Australia's youngest (and first on the Western Front) VC recipient of WW1
Pte John William Alexander Jackson, 17th AIF Battalion, gazetted 8 September
1916 (age 18, also DSO)
'For most conspicuous bravery. On the return from a successful raid, several members of the raiding party were seriously wounded in "No Man's Land" by shell fire. Private Jackson got back safely and, after handing over a prisoner whom he had brought in, immediately went out again under very heavy shell fire and assisted in bringing in a wounded man. He then went out again, and with a serjeant was bringing in another wounded man, when his arm was blown-off by a shell-and the serjeant was rendered unconscious.
'He then returned to our trenches obtained assistance, and went out again to look for his two wounded comrades. He set a splendid example of pluck and determination. His work has always been marked by the greatest coolness and bravery.' (Gazette supplement 29740)
Born in New South Wales in 1897, Jackson  ('Jacko') was a soldier, hotelkeeper, farmer and clerk who showed determination and selfless courage under heavy fire while rescuing his comrades near Armentières, France. Having lost an arm above the elbow, he returned to no man's land for a further 30 minutes, until he could be satisfied that no wounded men were left in the field. He was welcomed back to Sydney as a hero. He died In Melbourne age 61.
See also: WW1 Victoria Cross recipients by year: 1914, 1915, 1916, 1917, 1918
Image: Australian War Memorial