Hall of fame: Robert Walpole, Britain's first PM
Robert Walpole is considered to be Britain's first prime minister. The Whig statesman dominated politics during the reigns of George I (Gazette issue 5248) and George II (Gazette issue 6592), and remains the longest serving prime minister in British history. During this time, the Whigs became a dominant (and mostly unopposed) party.
Early life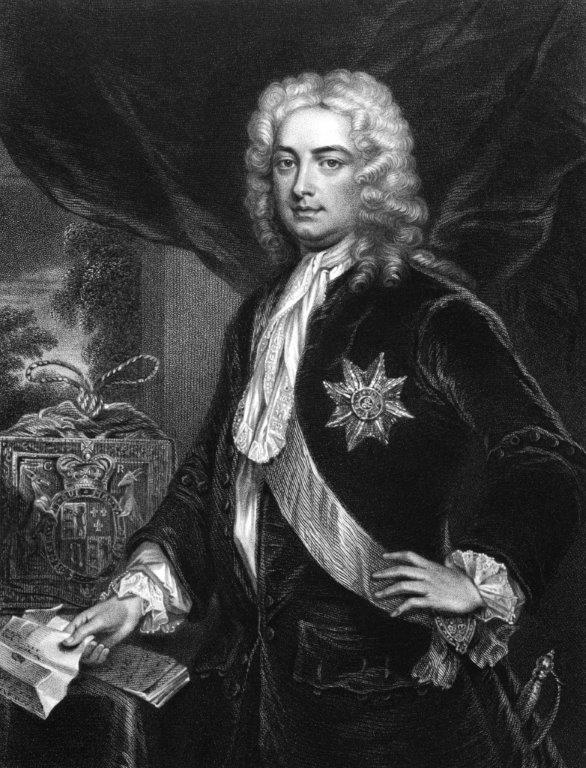 Walpole was born in Houghton, Norfolk, on 26 August 1676, to landowner and Whig MP father, Robert Walpole, and mother, Mary Burwell. He was one of 19 siblings.
Eton educated, Walpole studied at King's College, Cambridge, but never graduated, as the death of his eldest brother Edward in 1698 required his return to Norfolk to learn how to administer his father's estate. When his father died in 1700, he was left the estate of nine manors. This was also the year in which he married Catherine, daughter of a wealthy merchant, with whom he had five children. It's thought to have been an astute but loveless marriage. 
Political beginnings
In 1701, age just 25, he won a seat in the general election at Castle Rising (as had his father, Colonel Walpole, Gazette issue 2420), and in 1702, secured the seat at King's Lynn, which he was to hold largely uninterrupted until February 1742. He became secretary at war and treasurer of the navy in 1708.
Imprisoned in the Tower
By 1710, the Tories had won a landslide victory, and made Walpole their political target. In 1712, they accused him of 'venality and corruption', relating to his benefiting from two forage contracts for the army. Walpole was imprisoned in the Tower of London for six months, and expelled from parliament, 'guilty of a high breach of trust and notorious corruption', during which time he was visited by leading figures, and became something of a Whig martyr and national celebrity.
Once released, he was re-elected for King's Lynn in 1713 and made privy councillor and paymaster general in 1720, and paymaster of the forces: 'Robert Walpole, Esq; is appointed Paymaster-General of His Majesty's Forces.' (Gazette issue 5859).
The height of his political power
The resignation of Whig opponent Charles Spencer, 3rd earl of Sunderland (KG, Gazette issue 5854) and the death of James Stanhope in 1721, strengthened Walpole's standing further, and he was appointed first lord of the treasury, chancellor of the exchequer, and leader of the House of Commons in April 1721. The term 'prime minister' was not widely used at the time, but this was Walpole's effective position from now until 1742.
'His Majesty has been pleased to appoint the Right Honourable Robert Walpole, Esq; to be Chancellor and Under-Treasurer or His Majesty's Exchequer.' (Gazette issue 5943)
In his first year, Walpole had assisted parliament in weathering the South Sea Company financial collapse scandal (Gazette issue 6080), at the same time feathering his nest by investments he had made in the company prior to collapse. The discovery of the Atterbury Plot against the royal family helped to cement Walpole's position in stirring public sentiment, weakening the opposition, and crushing the hopes of the Jacobites, as described in Gazette issue 6061, in 1722:
'Abhorrence of that wicked Conspiracy which several of your Majesty's Subjects, contrary to their Allegiance, have entered into, in Concert with Traitors Abroad, for raising a Rebellion, in favour of a Popish Pretender, and to overthrow our excellent Constitution in Church and State.' 
It was at this time that Walpole began to build his stately country seat, Houghton Hall, on his inherited estate. Renowned for having expensive tastes, he employed the eminent architects and designers James Gibbs, Colen Campbell and William Kent for the project. 
He was an avid collector of art (as well as fine wine, books and plants), with a painting collection of 400 works by greats such as Rembrandt, Rubens and Gainsborough.
Sir Blue-string
In 1725, Walpole persuaded George I to revive the dormant Knight of the Bath (KB) (Gazette issue 6376) and was himself invested with the order before receiving the Knight of the Garter (KG) (Gazette issue 6482) in 1726, which he incorporated it into the stucco of his new mansion. Such awards were to be used as an additional source for political rewards, earning him the nickname 'Sir Blue-string' by contemporaries. His ability to pull political strings also earned him the nickname 'Screen-Master General' . 
In 1735, George II made Walpole a gift of 10 Downing Street, which has ever since been the permanent London residence of British prime ministers. Walpole refused the property as a personal gift and instead asked the king to make it available as an official residence to him and to future first lords of the Treasury.
Walpole's policy of avoiding military conflict greatly aided in his popularity throughout his term. He said to Queen Caroline in 1734 (with whom he had ensured favour), 'Madam, there are fifty thousand men slain this year in Europe and not one Englishman.'
Acts passed under Walpole
Between 1721 and 1742, the following acts were passed:
Parliamentary Privilege Act 1737: to amend an act passed in the Twelfth and Thirteenth Year of the Reign of King William the Third, instituted 'An act for preventing any Inconveniences that may happen by Privilege of Parliament'
Distress for Rent Act 1737: for the more effectual securing the Payment of Rents, and preventing Frauds by Tenants
Gaming Act 1738: an act for the more effectual preventing of excessive and deceitful Gaming
Walpole's tenure saw no reformist measures. In his own words, 'I am no saint, no Spartan, no reformer'.
The War of Jenkins' Ear and political decline
Two years after the death of Queen Caroline (Gazette issue 7654), a decline in fortune for Walpole came when the War of Jenkins' Ear in 1739 forced a declaration of war on Spain by the King: 'the British Colours have been insulted in the most ignominious Manner' (Gazette issue 7851). Walpole could no longer command the situation; his influence at court was waning. His second wife, Maria Skerret, had died in 1737, and he felt the loss profoundly, with some effect on his health.
This compounded Walpole's already decreasing popularity and growing opposition among both Tories and his own party, confirmed by a poor general election result for the Whigs in 1741.
Walpole lost a motion of confidence and resigned in February 1742. In the same year, he was given the title of 1st earl of Orford, in some respects considered to be 'pensioned off', though he retained the king's favour. He died in 1745, age 69.
Most of Walpole's paintings were sold by his grandson to Catherine the Great of Russia in 1779, to settle debts, with many still housed at the Hermitage Museum, St Petersburg.