The first Victoria Crosses of WW1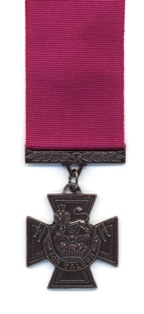 It took just 19 days after the British government declared war on Germany on 4 August 1914 (Gazette issue 28861) for the first Victoria Crosses to be awarded to soldiers of the British army. Although the Battle of Mons resulted in a humiliating defeat for the British, heroic acts were quick to reach the top brass.
A total of 5 Victoria Crosses were awarded for acts of valour on 23 August 1914. Here's how they came about.
At 5:30am on 23 August, the French army met with the British High Command and told them that the German army was advancing. They insisted that the British strengthen the line along the Mons canal and prepare the canal bridges for demolition. Despite initial resistance, French intelligence proved to be correct, as at 9am, just 3.5 hours later, the first German assault began on the 4 Mons canal bridges.
Maurice Dease
The heaviest fighting occurred at the Nimy Bridge by an assault of 4 German battalions. Heavily defended by Lieutenant Maurice Dease, his strong leadership is said to have made the German soldiers think they were facing machine-gun fire, rather than single shots from the barrage of Lee Enfield rifles.
After picking up and manning a machine gun to halt the German advance, Dease was shot several times, but continued to fire until all his men were shot (Gazette issue 28976). He later died of his wounds.
Sidney Godley
Further along the line, Private Sidney Godley single-handedly held off 6 divisions of the German army from taking a railway bridge. Under heavy fire, he proceeded to an advanced machine gun position and defended the bridge for 2 hours, even after sustaining a severe head wound (Gazette issue 12744).
Charles Garforth
Just 4 miles away, Corporal Charles Garforth's cavalry troop was fighting a rear-guard action near Harmignies. His troop was nearly surrounded and held up by a barbed wire fence, yet when the Germans turned their machine-gun fire on to the fence to prevent it from being cut, Garforth volunteered to cut it himself. According to (Gazette issue 28976), he succeeded in cutting the fence, and enabled his squadron to escape.
Charles Jarvis
Back at Mons, the fighting was heavy, and at times hand-to-hand. The German army's advance was at a critical stage, so the decision was made to blow up a bridge in Jemappes. Lance-Corporal Charles Jarvis advanced into position, and under heavy fire, and 'in full view of the enemy', spent 1.5 hours demolishing it (Gazette issue 28976).
Theodore Wright
Jarvis's heroics at Jemappes were matched by Captain Theodore Wright, who also helped to demolish the bridge. When the decision was made to blow it up, he made two attempts to reach the bridge under heavy fire – the first attempt resulted in a severe head wound, the second attempt proved successful. Despite being severely wounded, Wright helped Jarvis to connect the wires (Gazette issue 28976).
The result?
There were just over 1,600 British casualties (missing, wounded or killed) at Mons, across all ranks. About half of these were from just 2 battalions – 400 from the 4th Middlesex, and 300 from the 2nd Royal Irish.
The capture of Mons proved costly for the German army, with about 5,000 men killed or wounded.
Although the Battle of Mons was a defeat for the British, it did help Belgian and French forces to fall back and attempt to form a new defensive line. Left with little choice, the British Expeditionary Force (BEF) was ordered to retreat.
You can read more about the Battle of Mons in Gazette issue 7912.