The Gazette hall of fame: John Gough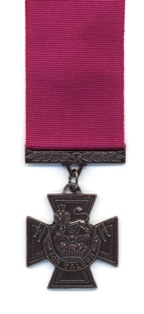 John Edmond Gough was born on 25 October 1871 in Muree, India. The son and nephew of 2 Victoria Cross heroes, John clearly had big shoes to fill. But by the age of 31, he'd matched his father and uncle in the field by winning the Victoria Cross, making his family the nation's bravest in terms of military honours.
Given his family's proud military tradition, the army was the natural destination for the young Gough. By the age of 19 he was gazetted for the first time when he was promoted to the rank of 2nd Lieutenant on 11 March 1892 (Gazette issue 26266), a big responsibility for such a young man.
Gough's promotions came thick and fast, serving in British Central Africa (1896), the Sudan (1898), Crete (1899) and in the Second Boer War (1902). By 1903, at just 31 years old, he was a Brevet Major serving in The Rifle Brigade in Somaliland.
The Victoria Cross
On 22 April 1903, Gough was commanding a marching column near Daratoleh when it came under attack by an enemy force in superior numbers, led by Mohammed Abdullah Hassan. During the retreat, 2 of Gough's captains (William Walker and George Rolland) went to the aid of the mortally wounded Captain Bruce. Although they could not bring him to safety, they prevented him from falling into enemy hands, and won a Victoria Cross for their actions. However, inGazette issue 27584of 7 August 1903, Gough played down his role in the failed rescue attempt.
It was not until later that year that the true story reached the ears of the top brass, in that Gough was as deserving of recognition as Walker and Rolland. On 15 January 1904 King Edward VII awarded him the Victoria Cross (Gazette issue 27636), and he joined his father and uncle as decorated heroes.
The following years saw Gough's military career go from strength to strength, being appointed Aide-de-Camp to the King in August 1907, and invested as Companion, Order of St Michael and St George in June 1910 (Gazette issue 28388).
World War 1
When war was declared on 5 August 1914 (Gazette issue 28861), Brigadier-General Gough joined the British Expeditionary Force and travelled to France. By February 1915, the 43-year-old was chosen to plan the defence of Neuve Chappelle. This promotion would have commenced in March, and would have meant being moved up to the rank of major general.
Unfortunately, however, on 20 February, Gough was shot by a German sniper and was mortally wounded. He succumbed to his wounds on 21 February, and was buried that afternoon in Estaires Communal Cemetery.
In recognition of his most distinguished service in the field, he received a posthumous knighthood from King George V on 20 April 1915 (Gazette issue 29136). The death of Gough led many of his contemporaries to remark that, had he gone on to command a division, he would have risen much further in the army and perhaps even replaced Douglas Haig as Field Marshal.