Winners of the 2020 Queen's Award for Voluntary Service
The winners of the Queen's Award for Voluntary Service (QAVS) have been announced for 2020. We spoke to five of this year's winners to see what the award means to them.
What is The Queen's Award for Voluntary Service?
The Queen's Award for Voluntary Service (QAVS) is the highest award given to UK volunteer groups and recognises exceptional work done by volunteer groups in their communities.
Winners of The Queen's Award for Voluntary Service receive a certificate signed by the Queen, as well as a domed glass crystal. They will also be able to nominate two representatives to attend a Royal Garden Party.
Who won The Queen's Award for Voluntary Service in 2020?
A total of 230 organisations from across the UK were awarded The Queen's Award for Voluntary Service in 2020 (Gazette issue 63013). We take a closer look at five of them:
Brighouse Swimming Club (BSC)
Based in West Yorkshire, Brighouse Swimming Club (BSC) is a small club punching way above its weight on the competitive swimming circuit. Unlike many bigger clubs, there are no paid professionals involved and all coaches are volunteers. Around 300 people of all ages currently benefit from the club, including some with disabilities and special needs. There are four club evenings each week, regular weekend galas and in-house swimming competitions. In 2019, BSC also took club members away for a 4-day swim camp.
On winning the award, Brighouse Swimming Club said: "We are delighted to be awarded The Queen's Award for Voluntary Service. BSC provide a quality swimming experience and a lifetime skill from beginners to competitive swimmers. To receive the highest award a voluntary group can be awarded is just amazing and are very proud of the swimming club family."
Cymer Afan Community Library
Founded in 2014, in Afan, Cymer, Wales, the Cymer Afan Community Library is a much loved community-built library that provides a library service, film nights, credit union, Tai Chi and distributed food bank vouchers to all members of an isolated and deprived community. The community library is the last remaining non-sporting public space in a disadvantaged village and a total of 26 volunteers ensure the library is a place where people can meet with no particular purpose, tackling loneliness and isolation.
Bob Chapman, Secretary to the Trustees of Cymer Afan Community Library, said: "It is fantastic to win this award in recognition of the contribution our volunteers make to our local community – we are all delighted! This is a significantly disadvantaged area and we all work tirelessly to give people opportunities that would otherwise not be available here."
Martineau Gardens
Martineau Gardens is a long-term Therapeutic Horticulture programme for adults/young people and specialist groups, including refugees and people with dementia, who are isolated due to mental illness or other disabilities. Founded in 1997 in Birmingham, the programme relies on 114 volunteers, as well as eight paid staff, which allows the 2.5-acre garden to stay open to the public for free. Many of the volunteers are socially isolated or marginalised by health issues but find a warm welcome and a sense of purpose and belonging at the gardens. Produce grown by the volunteers is also sold at the gardens with the mantra 'please pay what you think it is worth or what you can afford', avoiding discrimination.
Chair of Trustees, Sue Roberts, said: "We are honoured to receive the Queen's Award for Voluntary Service in recognition of the dedication of past and present volunteers. I would like to add the thanks of staff, and my fellow trustees, to everyone who has given selflessly to make Martineau Gardens the safe and welcoming space it is today. For each of us it is a privilege to be associated with Martineau Gardens and the benefits it provides for our community."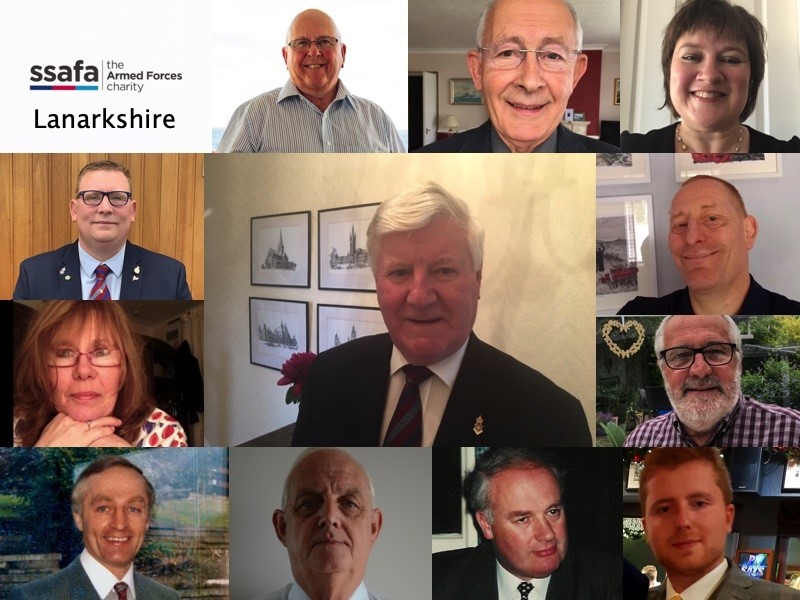 SSAFA Lanarkshire
Supporting the Armed Forces for more than 130 years, SSAFA Lanarkshire works to ensure that the needs of veterans of the Royal Navy, the Royal Marines, the British Army and the Royal Air Force, and their families are met in an appropriate and timely way. Through their 5,000 trained volunteers, SSAFA provide personalised, face-to-face support to those in their local area, relieving need, suffering and distress amongst the Armed Forces, veterans and their families.
On winning the QAVS, Chairman of SSAFA Lanarkshire, David McAllister MBE, said: "Having been Branch Chairman for over 18 years, it never fails to amaze me, that we as a Branch do over 200 cases every year, assisting our Veterans and their families in their times of need. I have been fortunate over the years to have people willing to volunteer to help needy causes, assisting people with straightforward items like a cooker or carpet, through to more complicated problems. I am honoured to lead such a team of true volunteers, and naturally delighted to have our work recognised in the QAVS."
Portico Ards
Portico Ards is a restored a Greek Revival church in Portaferry, County Down, which has created a thriving arts centre whilst still allowing Sunday worship for its congregation. A Protestant church in a 90 per cent Catholic area, Portico Ards arranges around 30 events a year, helping to bring communities together with occasional ecumenical services. Based in an area of significant deprivation, locals can benefit from attractive gardens, a community hub and a community choir. The volunteers, which range from 16 to 87 years old, have raised around £90,000 per year to an isolated rural economy.
Neil McClure, Chair of Portico Ards said: "We are delighted and honoured to receive the Queen's Award for Voluntary Service. Our arts and heritage centre simply wouldn't have happened and couldn't exist without the time and effort of all concerned. Whether it is gardening or tour guiding, singing or spring cleaning, ushering or grant writing, every volunteer plays their part and the result is a remarkable asset for the whole community to take great pride in and to enjoy. This prestigious national award marks these various contributions and is a very welcome recognition of all our efforts."
See also
The Queen's Award for Voluntary Service
The Queen's Awards for Enterprise
Find out more
Nominating a group for The Queen's Award for Voluntary Service (QAVS)
The Queen's Award for Voluntary Service (GOV.UK)
Publication date: 3 June 2020