HRH The Prince of Wales turns 70
On 14 November, HRH The Prince of Wales celebrates his 70th birthday.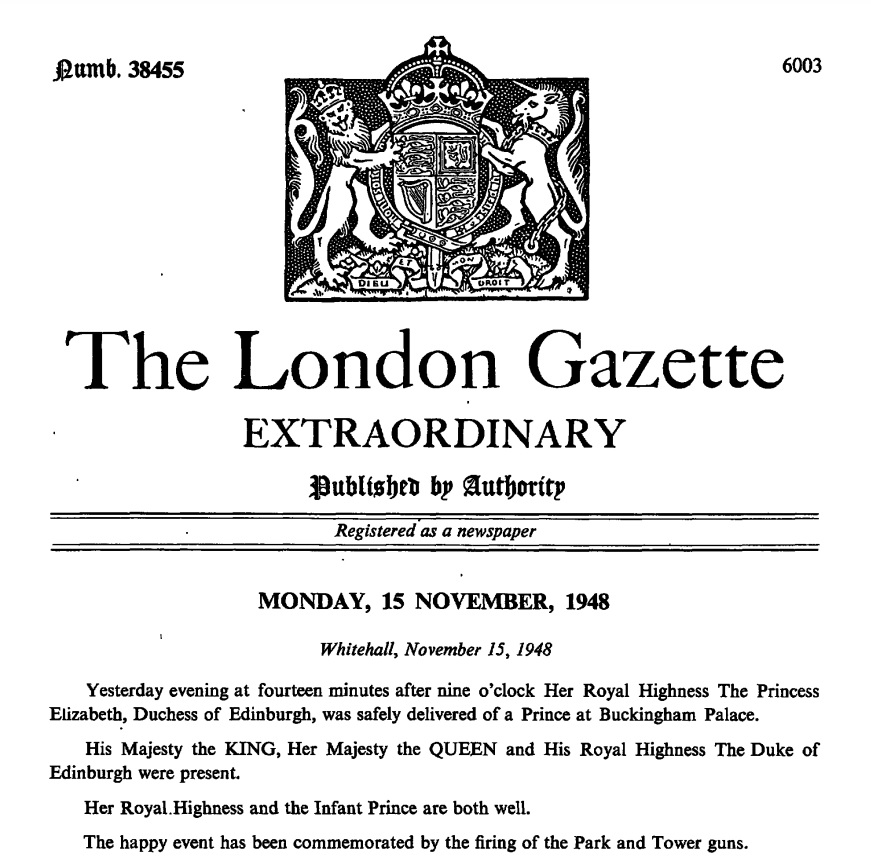 The Gazette marked the birth of Charles Philip Arthur George, 'at fourteen minutes after nine o'clock' on 14 November 1948, with an extraordinary edition (Gazette issue 38455).
Charles was a royal prince from birth. On 22 October 1948, George VI had issued letters patent granting a royal and princely status to any children of Princess Elizabeth and the Duke of Edinburgh (Gazette issue 38452).
Becoming the 24th Duke of Cornwall on The Queen's accession to the throne in 1952 (Gazette issue 39484), he was created Prince of Wales and Earl of Chester on 26 July 1958 (Gazette issue 41460).
Affiliated to 18 military regiments, Charles's first honorary appointment in the armed forces was as Colonel-in-Chief of the Royal Regiment of Wales in 1969. In 2012, he was installed as Admiral of the Fleet, Field Marshal and Marshal of the Royal Air Force, to acknowledge his support of The Queen in her role as Commander-in-Chief of the British armed forces (Gazette issue 60350). 
A BBC documentary followed a year in the life of the prince and was shown on 8 November (available on BBC iPlayer: bbc.uk).
See also