Distinguished Conduct Medal (DCM)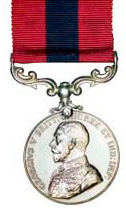 Awarded for gallantry in the field, a distinguished award for bravery for NCOs and soldiers of the British Army, second only to the Victoria Cross for other ranks.
First established
By Queen Victoria, 4 December 1854 (Gazette issue 21635).
WW1 recipients
Pte Alexander Adair, RSF, gazetted 12 January 1920
'For conspicuous gallantry and devotion to duty on 1st October, 1918. The attack on the Faubourg de Paris being held up by heavy machine-gun fire, he with four men went forward to look for wounded. The four men became casualties, and he went on by himself, bandaging and carrying in wounded on his back. He kept on at his work all night, and showed an utter disregard for danger.' (Gazette supplement 31726)
Sgt Frank Johnson, RFC, gazetted 26 April 1917
'For conspicuous gallantry and devotion to duty as an observer. He was attacked by three hostile machines and shot one of them down. He has previously shot down three other machines.' (Gazette supplement 30036)
First bar:
'For conspicuous gallantry and devotion to duty in encounters with enemy aeroplanes, with the following results… Attacked and crashed a Pfalz scout, drove down an Albatross out of control. On previous occasions he had destroyed four enemy aeroplanes and driven three down out of control.' (Gazette supplement 30879) (The Pfalz and Albatross were fighter aircrafts of the Imperial German Army Service.)
From Oldham, Lancashire, Johnson was credited with 16 aerial victories.